A World To The Drone Community
DroneXchange Pte Ltd was established in August 2019 with the intention of setting up a common market place for all the members within the Drone Community (including the Regulators and the General Public) to interact and interconnect with one and other; so as to align respective interests and to foster understanding that support a safe and growing drone industry.
There will be a line up of initiatives installed for you; and for now, we are delighted to announce that, in conjunction with the rollout of the enhanced version of flywhere.sg, we have launched the mobile app version of Flywhere. This is now available to download on both iOS and Android via the QR code below or https://bit.ly/flywhrapp.  
Users who choose to sign-up as our members via the mobile app will be covered under our complimentary public liability insurance.
If you have any questions or feedback, please feel free to let us know.
We hope that with our app in your hand along with the upgraded web version of flywhere.sg, we will be able to better serve and guide you on where and when you can enjoy flying your drones.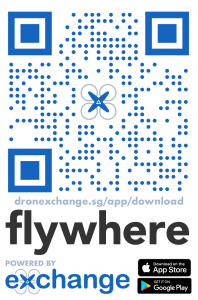 Mission
To Serve And Connect The Drone Community.
Goals
Push For A Safe Droning Environment For All.
Provide Platforms That Connect The Drone Community.
Promote Activities And Behaviours That Support The Growth Of The Drone Industry.