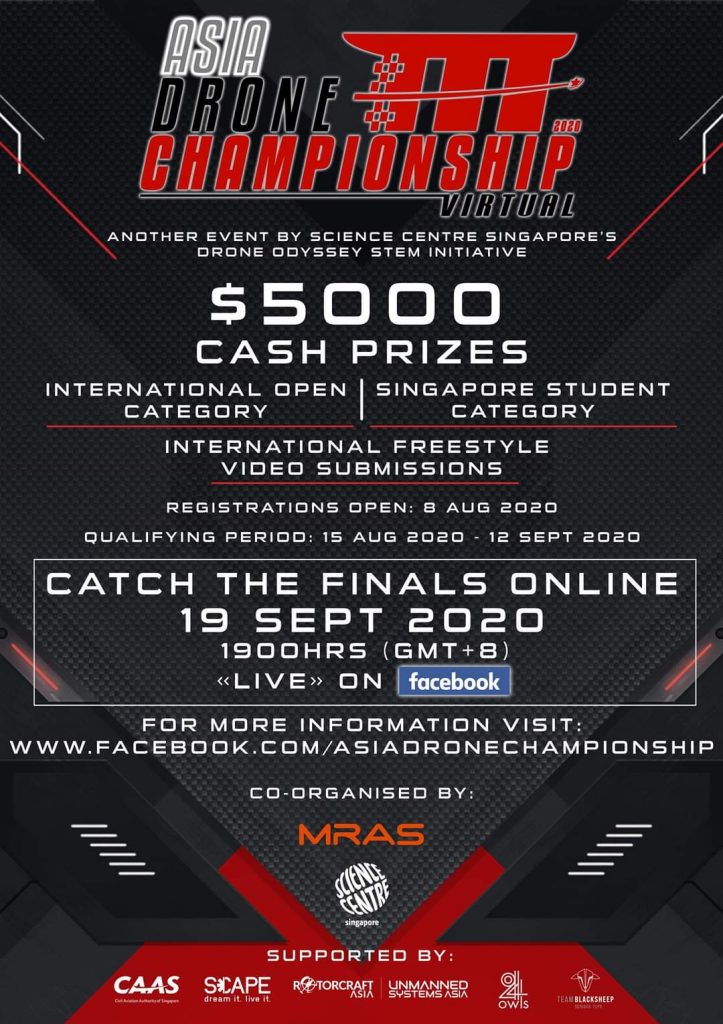 Asia Drone Championship is back in 2020, and they are going virtual on the 19 Sept 2020, 1900Hrs(GMT+8)!
Pilots will be battling it out to win up to SGD$5000 in cash prizes!
3 different categories to showcase the best of local & international drone pilots racing in a virtual environments and freestyling in the real world!
– International Open Race Category
– Singapore Student Race Category
– Freestyle Online Video Submission Category
Do join them on their "LIVE" event, streaming to you on the 19 Sept 2020, 1900Hrs(GMT+8)!
===Social Media===
For up to date information on the event do follow us on our facebook page, Instagram & Youtube channels:
Facebook page: http://www.facebook.com/asiadronechampionship
Instagram: https://www.instagram.com/asiadronechampionship/
Youtube: https://www.youtube.com/channel/UC-UJTh2sGxEraPkL24MdmsA?
===Pilots Participation Rules & Regulations===
Please refer to this link for the full rules and regulations on how to participate via this link: https://www.dropbox.com/s/45mfdesy9…/ADC2020%20RULEBOOK.pdf…
===Pilots Competition Registration===
To register for the competition please visit :https://www.eventbrite.com/e/asia-drone-championship-2020-v…
*** Only registrations on our eventbrite page will be accepted, please take note of the closing date & times for registrations in the Guidebook.
====
ADC 2020 Virtual is proudly co-organised by: MRAS and Science Centre Singapore and Supported by: Civil Aviation Authority of Singapore, @SCAPE, Rotorcraft Asia & Unmanned Systems Asia, 24 OWLS, Team BlackSheep
====
Check out the youtube version of this video here:
https://www.youtube.com/watch?v=GqftliOy8d4